Share This Article
Wayajers love to travel. But those voyages can produce a great deal of carbon dioxide. One way to lower the greenhouse gas emissions of our travels is to stay at carbon neutral, eco-friendly hotels. Many of these establishments power themselves with solar energy or biofuel. Some also offset the CO2 emissions generated by international flights through third-party initiatives. Here's a list of five fabulous hotels that are carbon neutral.
Campi ya Kanzi, Kenya
Campi ya Kanzi is a dream. It's a dream for the owner, Luca Belpietro, for the Maasai he partnered with to promote conservation and sustainability community development through ecotourism, and… for the environment. Luca first came to the Kuku Group Ranch, the Maasai reservation where Camp ya Kanzi is located, in 1975 when he was 11 years old. Twenty years later he returned.
According to Luca, true ecotourism should be based on the use of the best available technologies in order to have the lowest impact on the environment. At Campi ya Kanzi photovoltaic panels transform sunlight into electricity, which is stored in a bank of batteries and runs all appliances from lamps to refrigerators. Carbon footprint: zero!
Water is captured from the rain with a special water catchment system that is 12,000 square meters (140,000 square feet) large and through the roof. Then it is stored in PVC tanks and bladders, with a combined capacity of 1,600,000 liters (about 400,000 gallons). Wastewater, both grey water and black water, is recycled with special filters imported from Europe. An anaerobic reaction assures the purity of water at the exit of the system. Final stage filtration is by a reed bed. Then, water is used in ponds for the wildlife.
The use of specially imported ecological soaps helps with the purity of the water. While low energy dishwashers and washing machine save on water consumption, hot water is heated by the central solar system. A water meter also monitors consumption in each unit. In the kitchen, meals are cooked using a special eco-friendly charcoal produced by the United Nations Environment Project. Made with coffee husks, it's a by-product of coffee farming.
Staff is also trained to minimize garbage production. All organic waste is transformed into compost. The rest of the waste is selected to be recycled. What can't be recycled is incinerated in a special incinerator built according to a UN recommendation.
All of this guarantees that a stay at Campi ya Kanzi is carbon neutral. All carbon emissions related to running the lodge and transporting visitors to and from the lodge within Kenya are offset by the local Chyulu REDD + Carbon Project.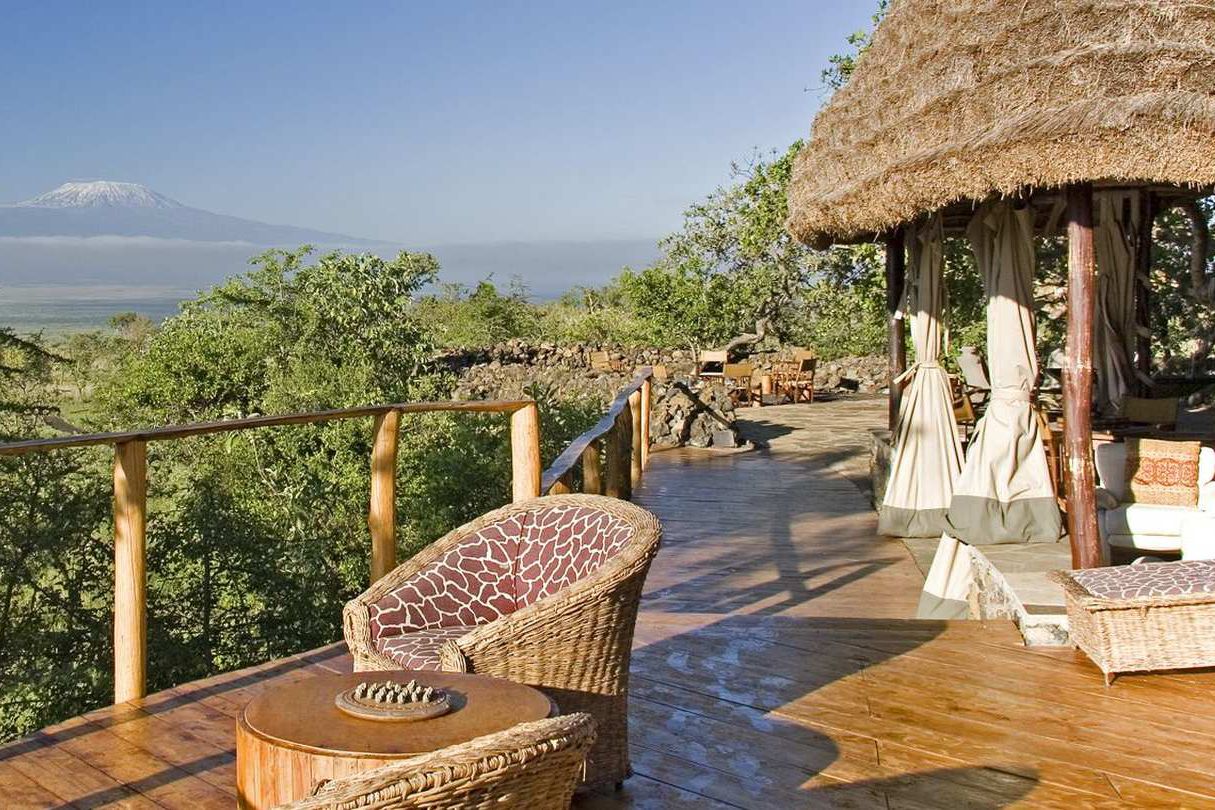 Schwarzwald Panorama, Germany
Everything that the Schwarzwald Panorama does truly reflects a mindset of sustainability. Under the motto "Think Globally – Act Regionally," they actively take numerous measures in order to preserve the natural beauty and diversity of the Black Forest (Schwarzwald) for future generations.
A stay here is climate neutral. The CO2 emissions generated during a stay are reported and offset through the support of recognized climate protection projects in collaboration with ClimatePartner, an organization that supports companies in climate protection. The goal of this group is to make climate protection a part of everyday life.
All environmental pollution generated by the hotel, including the annual CO2 emissions, are recorded and analyzed. The numerous measures the hotel takes every year, such as the integration of modern, user-friendly technologies like green IT and LED lighting, reduction of paper consumption, using regional and seasonal ingredients in their restaurant, as well as utilizing materials and products from resources of sustainable and fair trade sources, yield a maximum reduction in CO2 emissions.
Any unavoidable residual emissions are compensated through matching offset projects. On Schwarzwald Panorama's website there is a CO2 Calculator where you can choose a carbon offset project like a biomass scheme at a brickyard in Soacha, Columbia, an energy efficiency endeavor in North Rhine Westfalia, Germany, and a rainforest protection program in April Salumei, Papua New Guinea.
The Brando, French Polynesia
The Brando considers itself to be a steward of Teriaroa, the island on which it sits. Designed to sit as lightly as possible, it was built without beach obstruction and the building materials used are of local or certified origin, renewable, or incorporate recycled components.
Throughout the resort a pioneering deep seawater air conditioning system is utilized in order to reduce energy demands. Sea Water Air Conditioning (SWAC) harnesses the cold of the ocean depths to provide low-energy, highly efficient cooling for all the buildings, reducing energy demands by almost 70%. Also in use are solar power and biofuel.
Solar energy produced from photovoltaic solar panels along the airstrip provides over half of the resort's remaining energy needs. This shows how to make typically unused space like this productive! Solar heating provides all of the resort's hot water. The resort is fully biofuel capable and uses coconut oil biofuel for its power station. Flow-batteries for storage of energy generated from solar power are made primarily from recyclable materials and have a service life of thousands of deep discharge cycles.
Finca Rosa Blanca Coffee Plantation Inn, Costa Rica
The Finca Rosa Blanca Inn has an ambitious plan of recycling and regeneration, avoiding toxic chemicals, and engaging in organic agriculture to reduce their ecological footprint and mitigate their impact on climate change. Over the last 25 years, the owners, the Jampol family, has planted more than 7,000 native trees.
From using biodegradable soap to the solar panels that heat water for the guest rooms, the Inn manages to be carbon neutral. There's also a spring-fed, solar-heated swimming pool with chemical-free water kept clean through an ionization system. Finca Rosa Blanca Inn supports the Certification for Sustainable Tourism (CST). This Costa Rican program certifies responsible and sustainable tourism, and the Inn has obtained the highest level possible within the scheme.
The Inn is also helping to get Costa Rica closer to its countrywide zero-emissions goal with the Climate Conscious Traveler program. All the tourism players, including hotels, tour operators, etc., share in the cost of offsetting the carbon from a visitor's stay.
Tourism companies participating in the program pay US$5 per ton of CO2 for jet flights, with a typical offset for a traveling couple running US$10 to US$15. The Climate Conscious Traveler program offsets the emissions through FONAFIFO, a forestry fund that pays landowners to preserve existing forests and plant new trees. The result: In the last 20 years Costa Rica has increased its green coverage by more than 25%!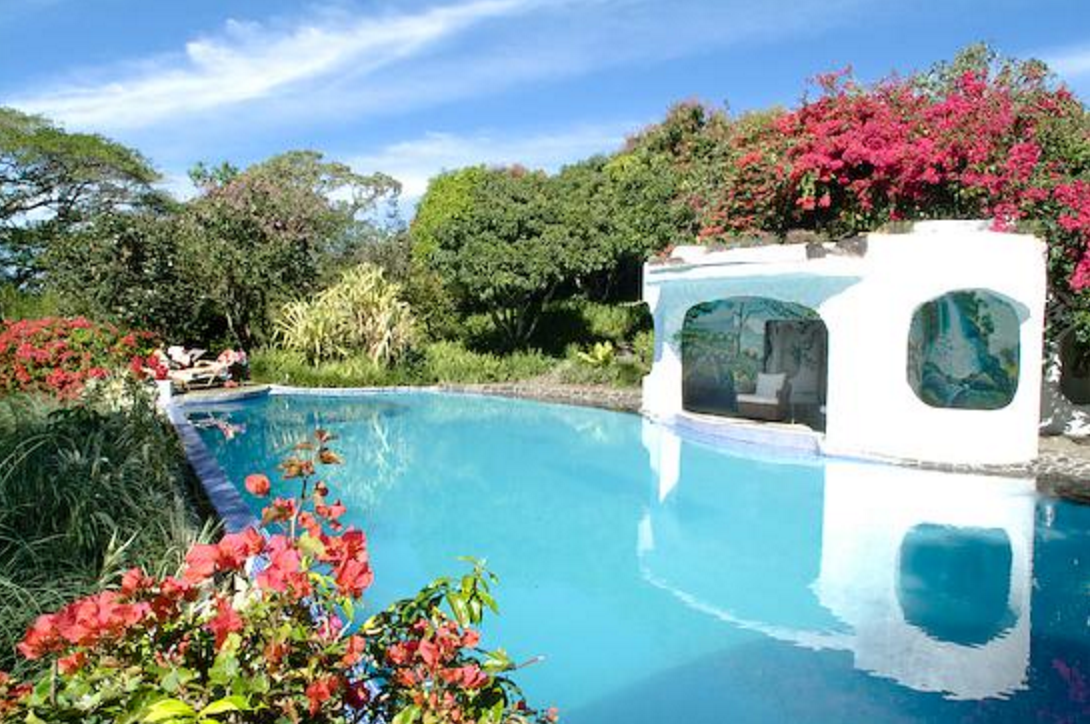 Hotel Verde Cape Town, South Africa
According to Hotel Verde Cape Town's owners, Mario and Annemarie Delicio, "We are not inheriting the world from our forefathers, rather we are borrowing it from our children. That is the view we must take to live more sustainably. We have, as individuals and as a company, a responsibility towards our current and future generations."
Set within a tranquil wetland close to the Cape Town International Airport, Hotel Verde has been designed to offer luxury accommodations with minimal environmental impact that is 100% offset carbon neutral. The hotel's socially responsible carbon neutral program is in partnership with the environmental sustainability organization, ImpactChoice. Thanks to this partnership, the hotel has been able to provide tangible proof to guests that the emissions attributable to their stay have been offset and also financially benefit the Kariba REDD + Project in Zimbabwe.
Over the past few years, Northern Zimbabwe has lost 3% of its forest cover, while wildlife populations have become threatened. The project aims to combat these negative effects and uplift the local communities in the process with financial support from Hotel Verde, as well as others.
In May 2014, Hotel Verde became the first hotel in Africa to offer accommodation and conferencing that is 100% carbon neutral. Guests are ensured a carbon neutral stay where just one night spent equates to offsetting 22.01km of carbon, saving 51.51kWh of electricity and 611,271 liters of water, and diverting 4 kilograms of waste from a landfill. Renewable energy generated at Hotel Verde over the year is 101,305 kWh. That's the equivalent of playing an energy star rated LED TV (like those used by the hotel) for 165 years.
How do they do it? Hotel Verde has installed the following technological advances to optimize energy efficiency:
Geothermal ground loops coupled to heat pumps for central heating/cooling and domestic hot water generation

Intelligent heating ventilation and air conditioning system

Three vertical-axis wind turbines

220 photovoltaic panels on the North facing roof and façade

Energy generating gym equipment

Elevators with regenerative braking
The hotel also has insulated roofs and doors, double-glazed windows, as well as airtight doors and windows to minimize the loss of air conditioning. In order to lessen the "Heat Island Effect," (an urban area that is significantly warmer than the surrounding rural areas due to human activities), strategies such as reflective roof sheeting, solar panels, landscaping and a vegetative roof, which assists in absorbing less of the sun's heat, were put in place.
They also offer information to every guest during their stay with a sustainability channel on television. This channel pulls figures from the building management system to illustrate resource consumption and avoidance, as well as the savings of the hotel to our guests. Even the pool is carbon neutral! The pool water is kept clean by circulating it through a living ecosystem of aquatic plants. There aren't any harmful chemicals or sterilization systems used at all.
Wherever your voyages take you, there are more and more hotels out there that are carbon neutral. Using technology, many have employed numerous methods to offset carbon, from getting energy from the sun, to seawater air conditioning! Our travel calculator also gives travelers a better understanding of their carbon footprint when traveling, and the opportunity offset the emissions generated by their trip. So, when planning your next vacation, whenever it's possible, take advantage of what these great places to stay have to offer.
(Cover photo: Finca Rosa Blanca Coffee Plantation Inn)
Share This Article